Specialising in rare and architectural plants
Barracott Plants is a small nursery situated some five miles from Tavistock specialising in shade loving perennials and other rare plants that have architectural interest in the garden as well as exotics
We are open to the public by prior arrangement (01822 832234 or 07811 207186 or gandt@barracottplants.co.uk when we are pleased to welcome visitors we are also happy to pack and send by next day carrier or take to plant fairs if we are attending.

Minimum mail order plant value £30.00

Special Offer - Buy Now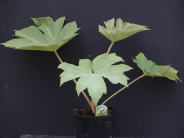 Tetrapanax Papyrifera Rex
Stunning foliage, felted palmate leaves up to 90cm wide. Can be grown in sun or shade white flowers Oct to Dec. Plants in 2 litre pots ready for planting out or potting on.
2 litre pot £25.00 (including carriage)
DELIVERY TO UK MAINLAND ONLY
Minimum order value does not apply. Carriage included in price.